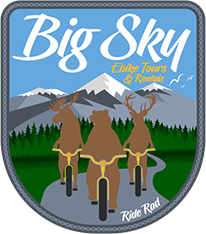 Ebike Tours & Rentals
Explore the beauty of Yellowstone with breathtaking views, and experience boundless adventure from the seat of an electric bicycle!

BOOK YOUR ADVENTURE
SCROLL DOWN
Rentals
BY THE DAY OR BY THE HOUR
Ready to take off on your own adventure? Rent one of our ebikes and start exploring the beautiful outdoors. Our ebikes are low impact, easy for everyone to use and have a long range so you can experience the best of what Yellowstone has to offer.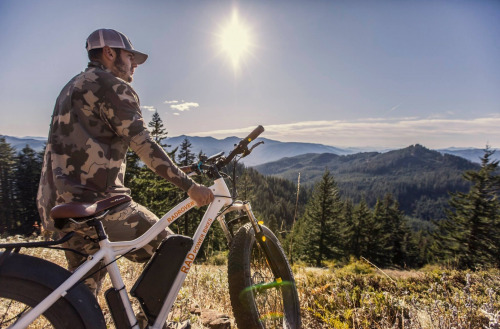 2 HOUR RENTAL
$50.00
Just right for a quick trip up to Mammoth Hot Springs, or ride along the Abandoned Railroad Bed Trail. Explore the small town of Gardiner, offering delicious food, ice cream, souvenir gift shops and take your picture under the iconic Roosevelt Archway.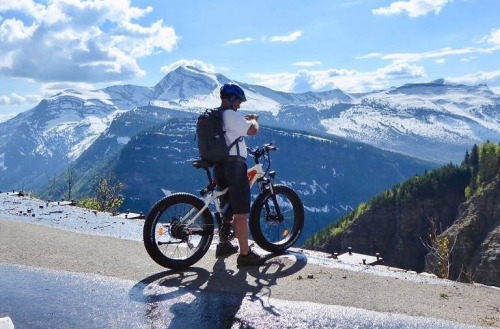 3 HOUR RENTAL
$75.00
Long enough to ride the 9 mile Yellowstone Trail reaching the Yellowstone Hot Springs in Corwin Springs. Lock up the bikes and take the time to soak in the mineral-rich spring water, before biking back to Gardiner.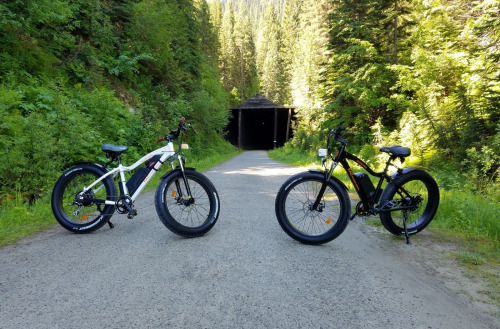 FULL DAY RENTAL
$100.00
Perfect for visiting several scenic locations in the Gardiner or Mammoth Hot Springs area.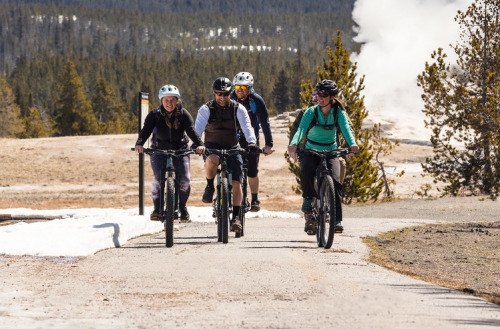 CUSTOM ADVENTURE RENTAL
Do you have a longer rental in mind? Get in touch with us and we can make arrangements for your adventure!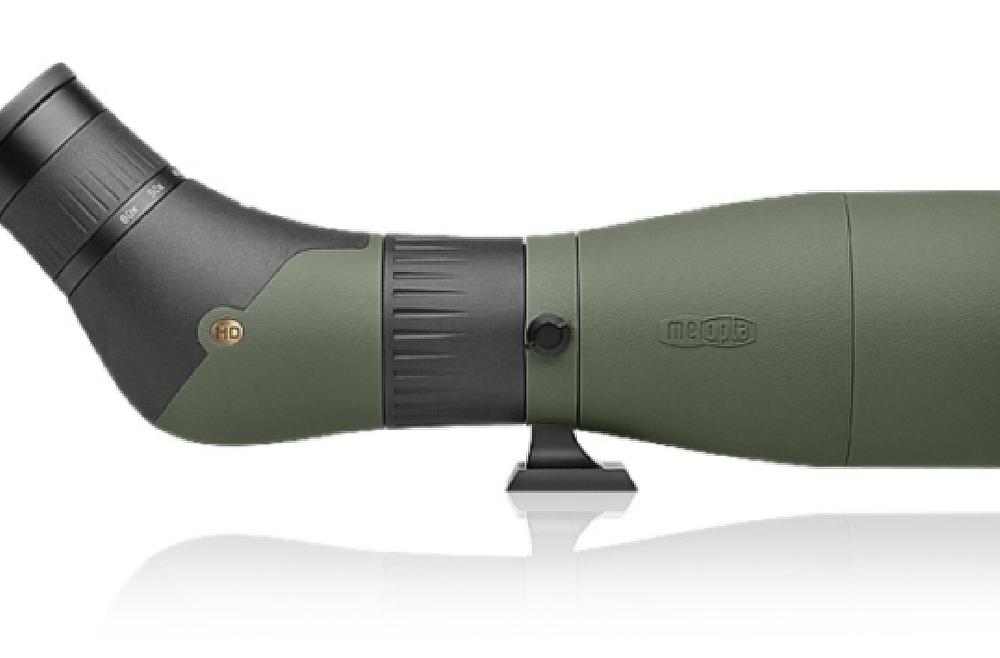 Scope Rental
The MeoPro 80 HD Scope offers high-definition benchmark performance & is the perfect optic for observing nature at extended distances. This is a great high end scope to set up alongside the road & spot all different kinds of wildlife, giving you an amazing up close view!
We Offer:
24 hour Rental: $45.00
48 hour Rental: $90.00
72 hour Rental: $122.00
96 hour Rental: $162.00
Call To Reserve!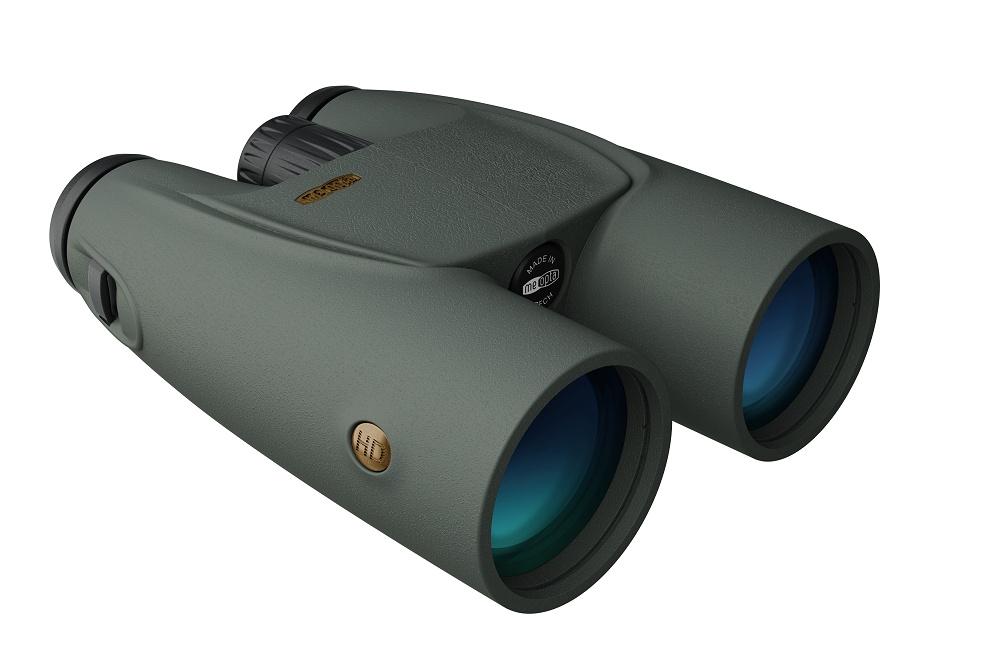 Binocular Rental
The MeoStar B1 Plus 12x50 HD Binoculars feature enhanced optical tolerances to provide even sharper images and greater optical performance. These binoculars are perfect for spotting wildlife during your adventure through Yellowstone.
We Offer:
24 hour Rental: $35.00
48 hour Rental: $70.00
72 hour Rental: $105.00
96 hour rental: $140.00
Call To Reserve!
Awesome experience, highly recommend. Excellent and friendly service. The Old Yellowstone Road is full of wildlife and beautiful scenery, and the hot spring right off the trail was amazing! Can't wait to come back!!
Ryan Shea
Tours
AMAZING JOURNEYS WITHIN A FEW MILES OF GARDINER
See all that North Yellowstone has to offer with a guided tour from the seat of an E-Bike! Join one of our experienced tour guides that will take you on the road less traveled.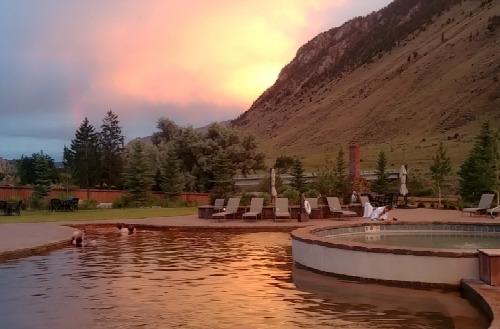 Bike & Soak
$200.00
Bike down the scenic Old Yellowstone Trail where you travel beneath the Devils Slide and through the home to many Pronghorn, Elk, Deer and Bison. Ride into Yankee Jim Canyon where we enjoy a picnic lunch before making our way to the beautiful Yellowstone Hot Springs. Here we park the ebikes and enjoy some time soaking in the natural springs.
For small groups of 3 & under please check out our FAQS page or give us a call.
Disclaimer: This tour does not run on Monday
Mileage: 19 miles
Duration: 6 hours - including time spent at the Hot Springs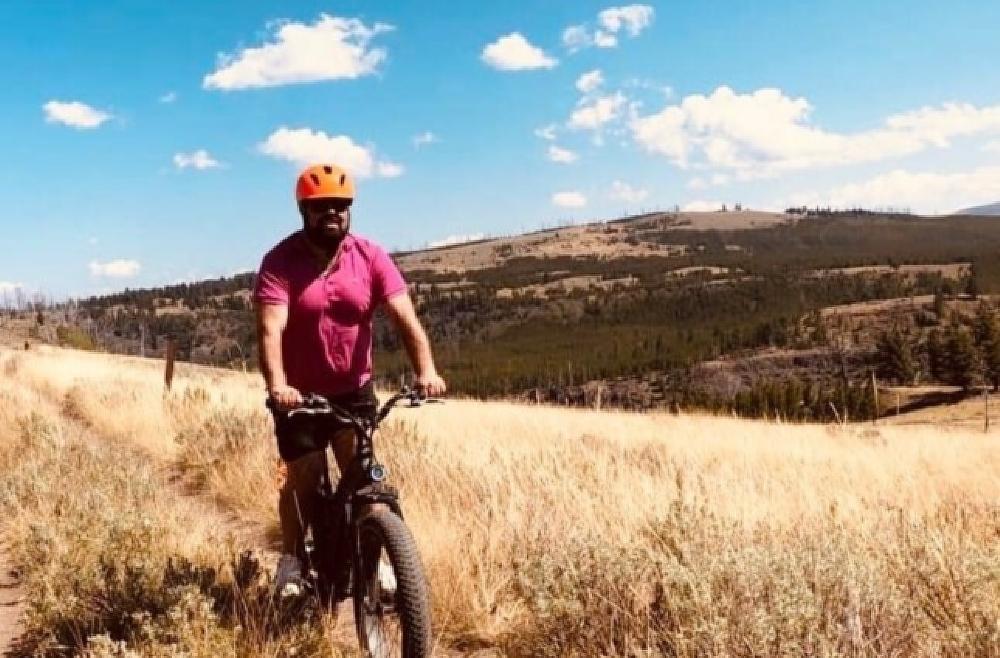 BUNSEN PEAK
$175.00
A scenic ride with the chance to see wildlife. We follow along the Gardiner River, where there are many amazing spots to stop along the way for fantastic photos. This ride includes a variety of terrain, with steep trails and tends to be a bit more strenuous.
For small groups of 3 & under please check out our FAQS page or give us a call.
Mileage: 17 miles roundtrip
Duration: 3 - 4 hours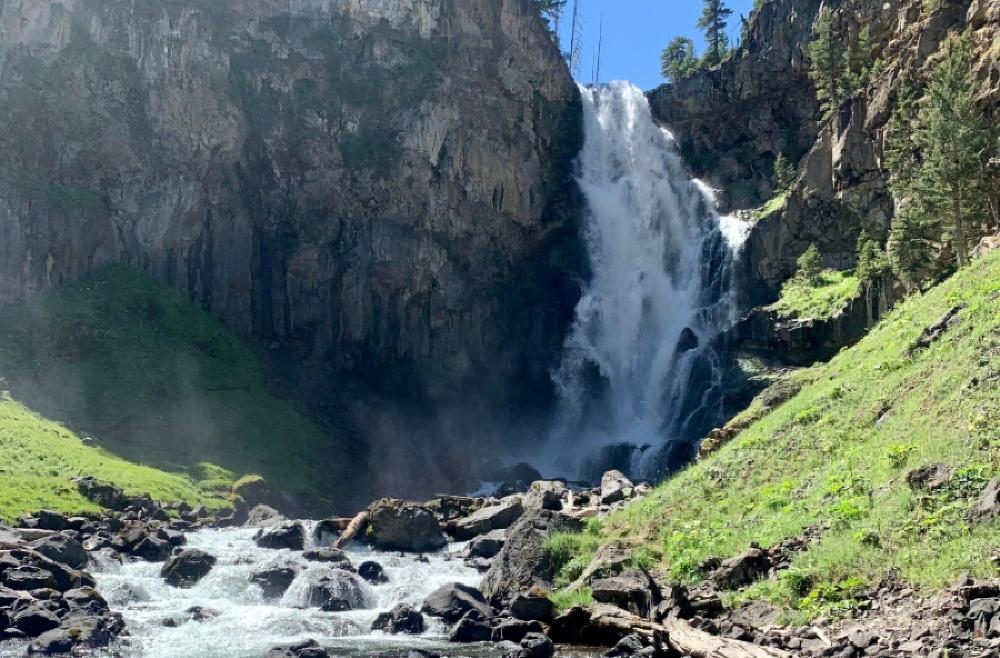 Bike & Hike to Osprey Falls
$200.00
Travel off the beaten path where you have the chance to witness bears, bison, mountain goats and elk. On our journey, we stop at the perfect spots for beautiful panoramic photos.
This tour also includes a 2.8 mile round trip hike into Sheepeater Canyon where we descend 700 ft. in elevation to the base of Osprey Falls. Here we take the time to admire the gorgeous falls and enjoy a picnic lunch. Lunch is provided on this tour.
For small groups of 3 & under please check out our FAQS page or give us a call.

Mileage: 10 miles roundtrip
This tour is temporarily closed due to trail washouts.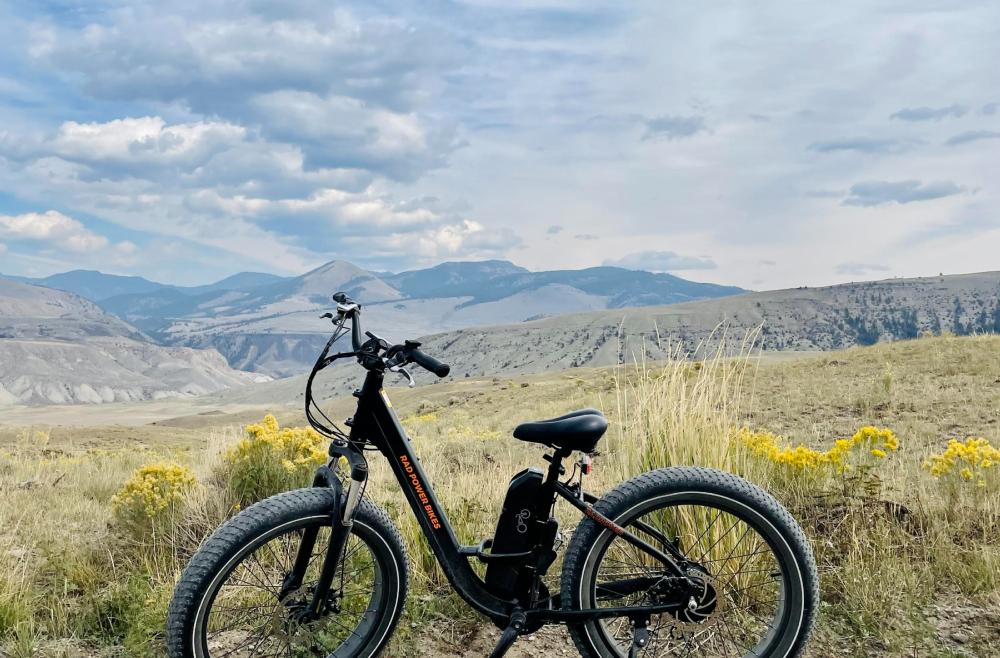 Point Of Rocks Tour
$200.00
Starting in the busy little town of Gardiner, bike down the Old Yellowstone Trail following along the Yellowstone River. Journey through Yankee Jim Canyon where we have a picnic lunch & hear the story of Jim George. After lunch, we continue to our final destination, the point of rocks! Throughout the entire tour, you will witness gorgeous panoramic views of Montana.
For small groups of 3 & under please check out our FAQS page or give us a call.
*This is a one way tour, we will shuttle you back to Gardiner*


Mileage: 22 miles
Duration: 6 hours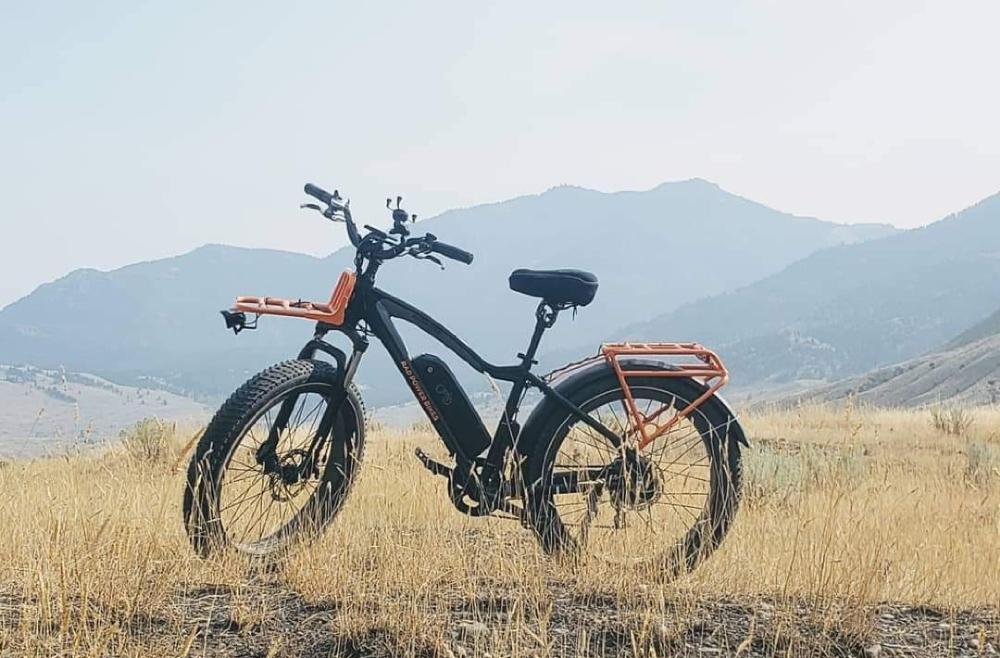 Epic Early Spring or Late Fall E-Biking
$250.00
Explore Yellowstone National Park during a quieter time. Bike your way to Norris Geyser Basin, home to the largest active geyser in the world, Steamboat Geyser! Biking through Yellowstone on roads that are closed to all public motor vehicles. Amplifying your chance to witness Bears, Bison, Elk and Wolves. Enjoy the calmness and beauty all at once. Book this unique e-bike adventure, your choice of a guided tour or on your own. Lunch will be provided for guided tours only.
For small groups of 3 & under please check out our FAQS page or give us a call.

Mileage: 45 miles roundtrip
Duration: 8 hours
This tour is only available during April & November.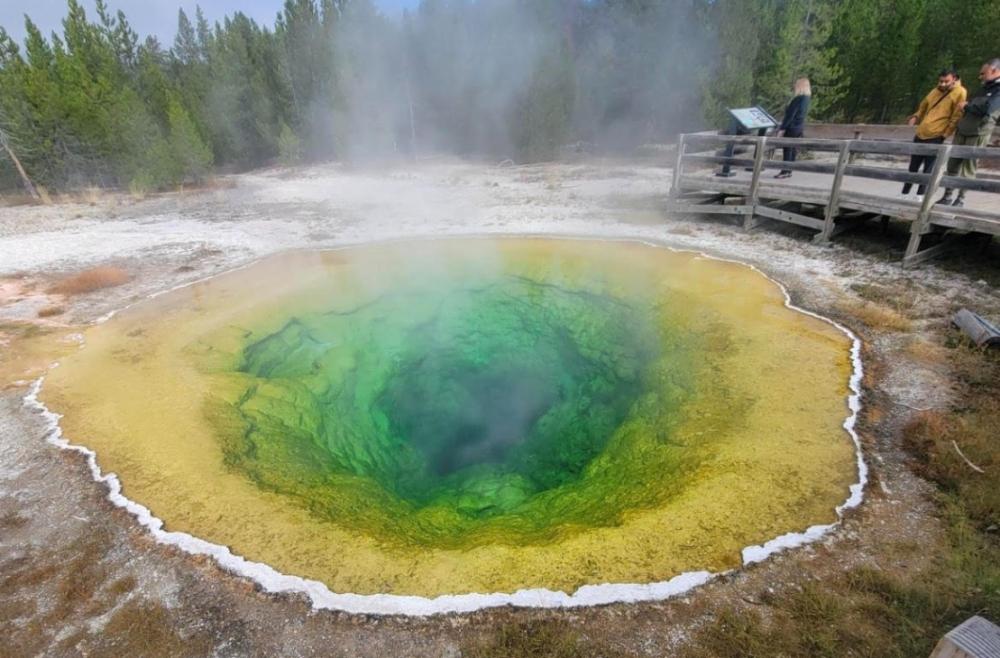 Geyser Basin Tour
$275.00
We begin our day driving to Old Faithful, witnessing the iconic geyser explode before us. With a quick visit to the remarkable Old Faithful Inn, then venturing on to the Morning Glory Pool. Following along the Upper Geyser Basin, the trail offers incredible views of the Daisy & Grotto geysers. Biking to Biscuit Basin, we arrive at a boardwalk home to a small set of hot springs, geysers & steam vents. Then driving to Firehole Lake Drive, we take a scenic bike ride to Firehole Spring & White Dome Geyser, where we enjoy a picnic lunch. After a short drive to the Fountain Freight Road trailhead, we bike our way to the final stop: the stunning Grand Prismatic.
For small groups of 3 & under please check out our FAQS page or give us a call.
Mileage: 15 miles roundtrip
Duration: 7 hours
Gallery
The scenery alone is reason enough
Taking our customers on trips through gorgeous Yellowstone country is our greatest joy and we like to document our trips when we can. So, touch back every so often to look through our past trips. Maybe they'll inspire your next big adventure!
View of Gardiner
Do you have more questions?
Frequently Asked Questions
Cancellation Policy
Reservations must be paid in full at the time of booking. We have a 72 hour cancellation policy. You may cancel your reservation before the 72 hours and receive a full refund. However, cancellation anytime after the 72 hours will result in your payment becoming non-refundable. You may change your reservations anytime prior to the 72 hours with no penalty.
For Small Groups Of 3 & Under
4 guests are the minimum amount of people that we need in order to run a tour. If a guided tour is requested with 3 people or less, said group of 3 or less will be charged an
additional
amount to cover the cost to run the tour. You will be refunded the
additional
cost if more people join the tour. Please call with any questions!
Geyser Basin Tour: $875 for a group of 3 or less
All other tours: $600 for a group of 3 or less
Is there an age limit?
For rentals the age limit is 13 years old with a minimum height of 4'8. For guided tours, our requirements are based off height & the biking experience an individual has. Our minimum height requirement is 4'8. But it all depends on an individuals biking capabilities. If we had a child 4'8 in height, 8 yrs old, an avid bike rider, & confident in themselves, we would allow them to ride their own ebike. If we had a child 5'2 in height, 13 yrs old, & has only rode a bike 3 times, we would suggest they ride tandem with an adult. For more details, please give us a call & we can discuss which option is best for your child.
WHAT IS AN EBIKE?
An electric bicycle (ebike) is, first and foremost, a bicycle. It uses the same designs and components as any other bicycle, but also includes an added electric motor. This is fueled by a rechargeable battery, which gives riders an extra boost of power and ultimately provides a smoother, more convenient and less strenuous cycling experience. Electric bikes help make the freedom, exhilaration, and satisfaction of cycling available and accessible to a wide range of potential cyclists.
HOW DOES AN EBIKE WORK?
Our ebikes have an electric motor that activates on its own after the first pedal, and with minimum effort, you can reach higher speeds.
WHAT IS THE TOP SPEED FOR YOUR EBIKES?
Our ebikes will go up to 20 miles per hour.
WHAT IS THE DISTANCE AN EBIKE CAN GO ON A SINGLE CHARGE?
Our ebikes can cover approximately 25 to 35 miles on a single charge. However, hills, wind and the weight of the rider all comes into play. Regardless, even if it's out of power, it's still a bike so it won't leave you stranded. Additional batteries are available for rental.
WHAT CLOTHING SHOULD I WEAR?
Closed toe footwear is required and sunglass are recommended. Our weather can change quickly, so be prepared for changing weather conditions and bring appropriate layers.

SHOULD I WEAR A HELMET?
Yes, we include a helmet with each rental or tour, and our helmets are made to the highest standards for ebikes.

WHERE CAN I LEGALLY RIDE AN EBIKE?
You can ride an ebike anywhere a regular bike can be ridden. In Yellowstone National park, there are designated routes allowed.
WHAT HAPPENS IF I DAMAGE MY EBIKE?
The customer is responsible for all damage or loss to the rented ebike.
About Big Sky Ebike Tours
ADVENTURES FROM YELLOWSTONE'S NORTH GATE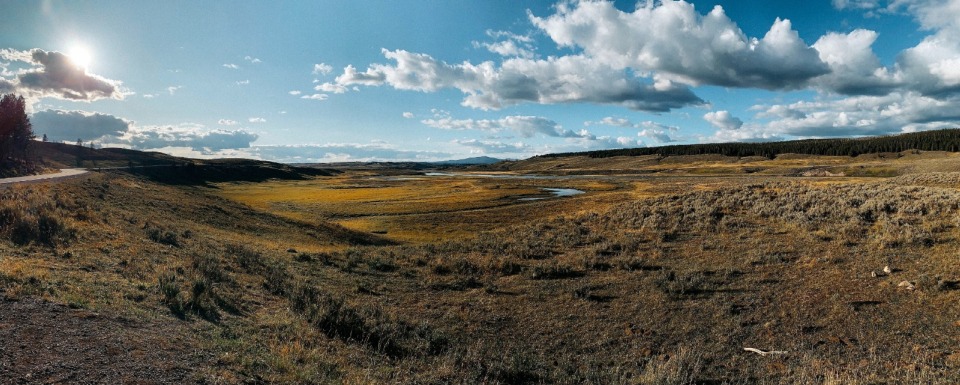 A CHANCE FOR EVERYONE TO ENJOY YELLOWSTONE ON TWO WHEELS
Big Sky Ebike Tours was born in autumn 2019, when the National Park System began to allow ebikes into Yellowstone and their other parks. Based in Gardiner, MT, right at the North Gate to Yellowstone and a short distance from great trails and sights.

We're experienced tour guides and love to share Yellowstone's wilderness and natural beauty with others. Whether you're looking for an adventure to a soaring waterfall or a bike ride into Yankee Jim Canyon, we'd be honored to be your guide.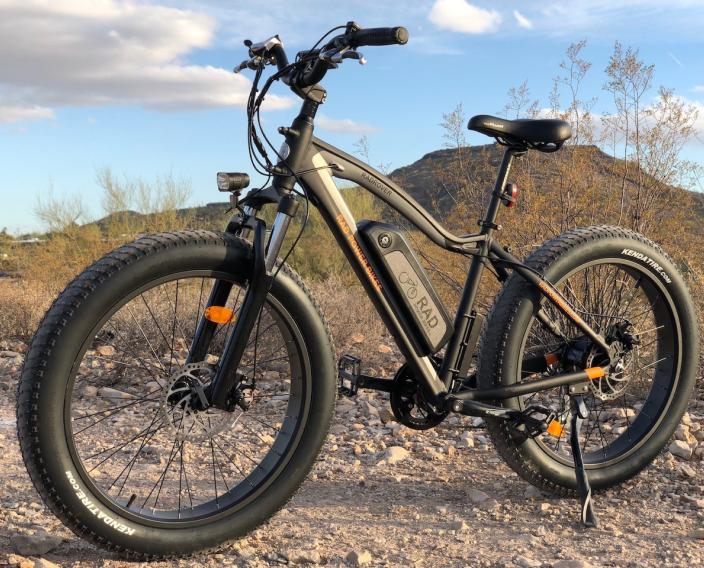 We offer the RadRover model ebike, which is a wonderful ebike thanks to its durability, features, ease-of-use and range.
We maintain all our equipment so you know that you will be able to ride safely and with confidence. We will make sure that the bike is fully adjusted to match your frame so you can hit the road and start having fun.
Book Your Adventure
LET'S GET STARTED
Do you have any questions about our bicycle rentals, tours or opportunities to explore in the Big Sky Region? Get in touch with us and we'll respond promptly.