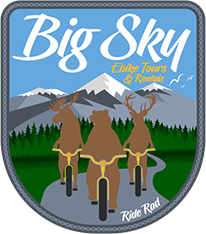 Ebike Tours & Rentals
Explore the beauty of Yellowstone with breathtaking views, and experience boundless adventure from the seat of an electric bicycle!

BOOK YOUR ADVENTURE
SCROLL DOWN
Rentals
BY THE DAY OR BY THE HOUR
Ready to take off on your own adventure? Rent one of our ebikes and start exploring the beautiful outdoors. Our ebikes are low impact, easy for everyone to use and have a long range so you can experience the best of what Yellowstone has to offer.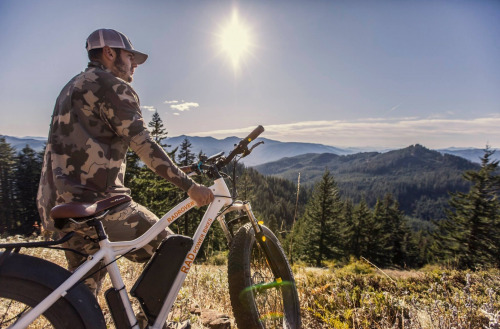 2 HOUR RENTAL
$50.00
Just right for a quick trip up to Mammoth Hot Springs, or ride along the Abandoned Railroad Bed Trail. Explore the small town of Gardiner, offering delicious food, ice cream, souvenir gift shops and take your picture under the iconic Roosevelt Archway.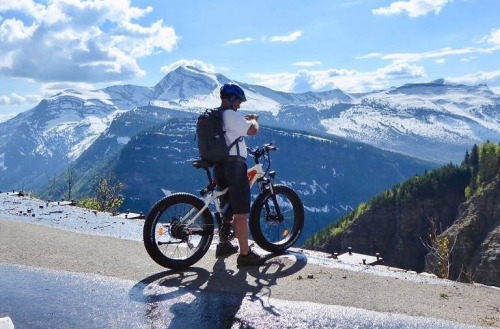 3 HOUR RENTAL
$75.00
Long enough to ride the 9 mile Yellowstone Trail reaching the Yellowstone Hot Springs in Corwin Springs. Lock up the bikes and take the time to soak in the mineral-rich spring water, before biking back to Gardiner.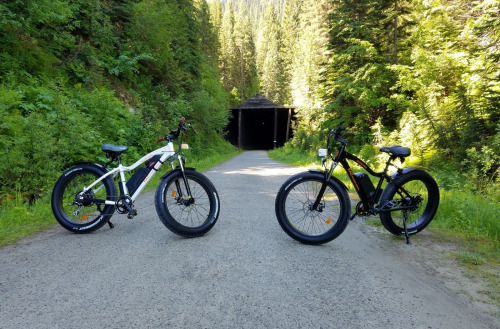 FULL DAY RENTAL
$100.00
Perfect for visiting several scenic locations in the Gardiner or Mammoth Hot Springs area.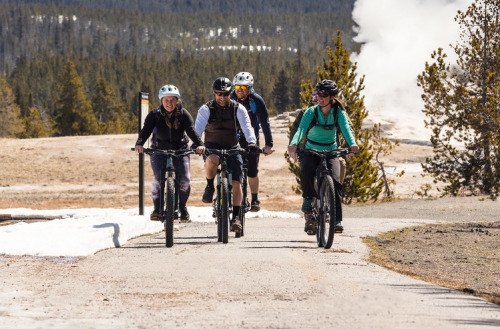 CUSTOM ADVENTURE RENTAL
Do you have a longer rental in mind? Get in touch with us and we can make arrangements for your adventure!
Tours
AMAZING JOURNEYS WITHIN A FEW MILES OF GARDINER
See all that North Yellowstone has to offer with a guided tour from the seat of an E-Bike! Join one of our experienced tour guides that will take you on the road less traveled.

OLD GARDINER ROAD
$125.00
A peaceful ride with only one-way traffic, Old Gardiner Road is a comfortable way to reach any number of scenic destinations in Mammoth. Once we reach Mammoth we will stop for an ice cream before preparing for the return trip. Chance to see many Elk, Pronghorn, Deer, Badgers, and Songbirds.
Duration: 3 - 4 hours
BUNSEN PEAK
$125.00
A stunning ride, with the chance to see Bison, Elk, Bears, Coyotes, and Wolves. Following along the Gardiner River, there are many amazing spots to stop along the way for fantastic photos.
Duration: 3 - 4 hours
BUNSEN PEAK WITH OSPREY FALLS
$150.00
This is the same ride as our Bunsen Peak guided tour except this also includes a 2 mile round trip hike to Osprey Falls.
Duration: 5 - 6 hours
Do you have more questions?
Frequently Asked Questions
WHAT IS AN EBIKE?
An electric bicycle (ebike) is, first and foremost, a bicycle. It uses the same designs and components as any other bicycle, but also includes an added electric motor. This is fueled by a rechargeable battery, which gives riders an extra boost of power and ultimately provides a smoother, more convenient and less strenuous cycling experience. Electric bikes help make the freedom, exhilaration, and satisfaction of cycling available and accessible to a wide range of potential cyclists.
HOW DOES AN EBIKE WORK?
Our ebikes have an electric motor that activates on its own after the first pedal, and with minimum effort, you can reach higher speeds.
WHAT IS THE TOP SPEED FOR YOUR EBIKES?
Our ebikes will go up to 20 miles per hour.
WHAT IS THE DISTANCE AN EBIKE CAN GO ON A SINGLE CHARGE?
Our ebikes can cover approximately 25 to 35 miles on a single charge. However, hills, wind and the weight of the rider all comes into play. Regardless, even if it's out of power, it's still a bike so it won't leave you stranded. Additional batteries are available for rental.
WHAT CLOTHING SHOULD I WEAR?
Closed toe footwear is required and sunglass are recommended. Our weather can change quickly, so be prepared for changing weather conditions and bring appropriate layers.

SHOULD I WEAR A HELMET?
Yes, we include a helmet with each rental or tour, and our helmets are made to the highest standards for ebikes.

WHERE CAN I LEGALLY RIDE AN EBIKE?
You can ride an ebike anywhere a regular bike can be ridden. In Yellowstone National park, there are designated routes allowed.
WHAT HAPPENS IF I DAMAGE MY EBIKE?
The customer is responsible for all damage or loss to the rented ebike.
About Big Sky Ebike Tours
ADVENTURES FROM YELLOWSTONE'S NORTH GATE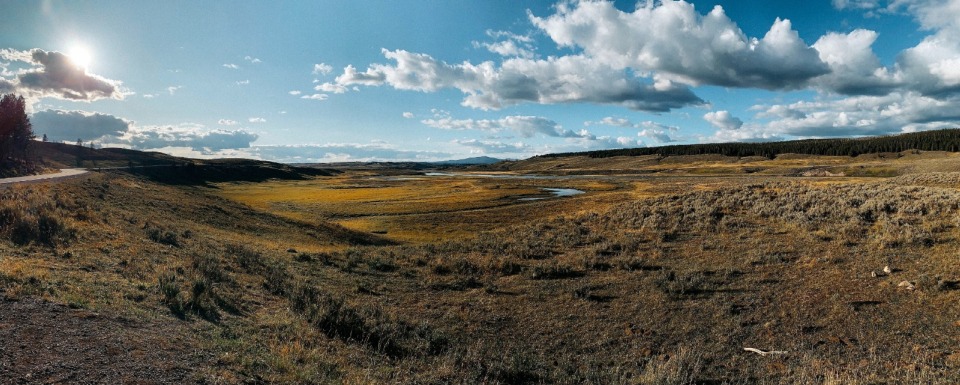 A CHANCE FOR EVERYONE TO ENJOY YELLOWSTONE ON TWO WHEELS
Big Sky Ebike Tours was born in autumn 2019, when the National Park System began to allow ebikes into Yellowstone and their other parks. Based in Gardiner, MT, we're right on the North Gate to Yellowstone and a short distance from great trails and sights.

We're experienced tour guides and love to share Yellowstone's wilderness and natural beauty with others. Whether you're looking for a short ride down the Old Gardiner Road or a longer journey towards Yellowstone, we'd be honored to be your guide.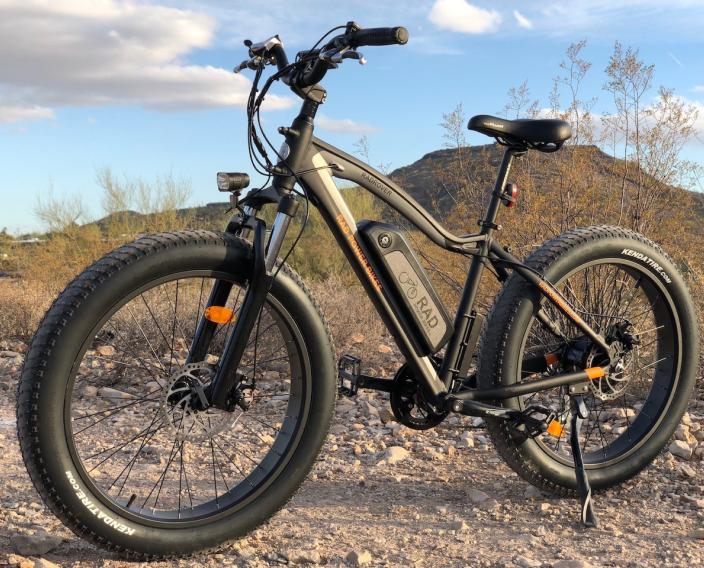 We offer the RadRover model ebike, which is a wonderful ebike thanks to its durability, features, ease-of-use and range.
We maintain all our equipment so you know that you will be able to ride safely and with confidence. We will make sure that the bike is fully adjusted to match your frame so you can hit the road and start having fun.
Book Your Adventure
LET'S GET STARTED
Do you have any questions about our bicycle rentals, tours or opportunities to explore in the Big Sky Region? Get in touch with us and we'll respond promptly.